The Best Bounce House & Water Slide Rentals in Broken Arrow, OK are just a Click Away!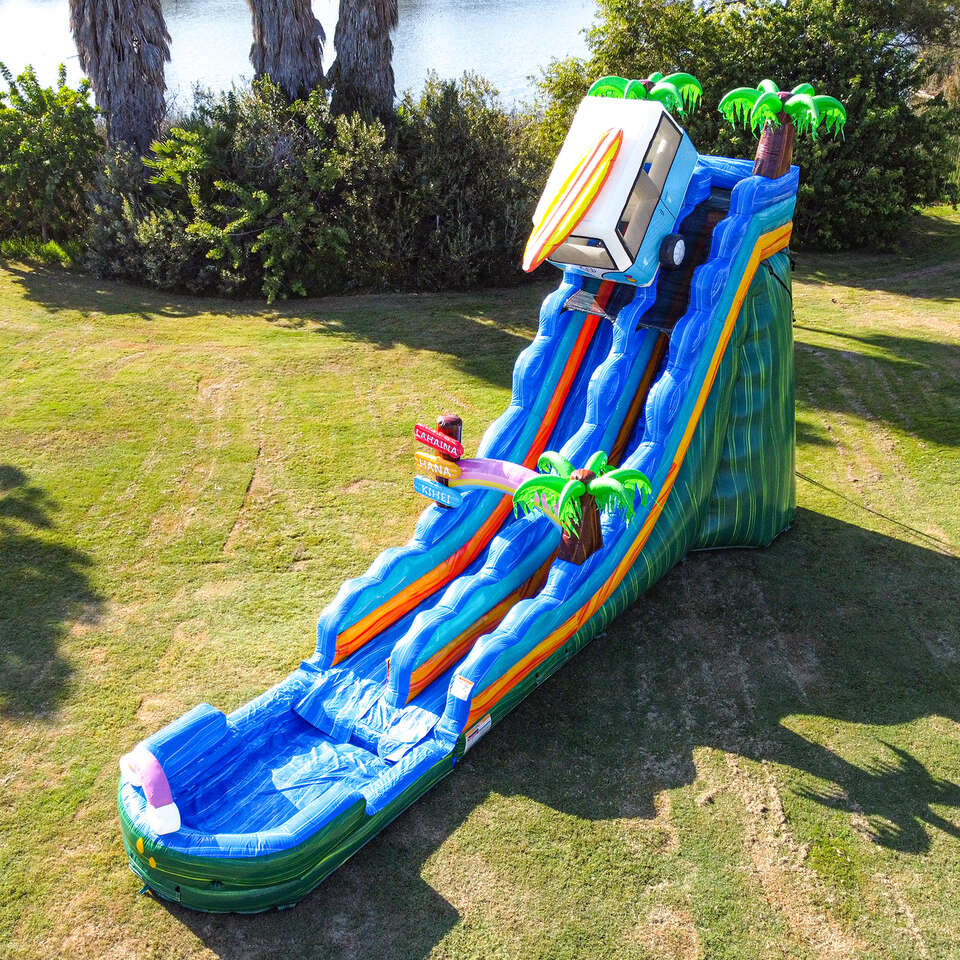 When it comes to fun in Broken Arrow, we deliver!
Galaxy Jumpers proudly stands as the premier destination for bounce house and water slide rentals in the thriving community of Broken Arrow, Oklahoma. With our exceptional service extending across areas including Claremore, Tulsa, and beyond, we are celebrated for our transformative approach to parties and events. Our impressive selection of inflatables and other party must-haves, combined with an unwavering dedication to delivering outstanding customer care and maintaining rigorous safety protocols, positions us as the top provider of bounce house rentals in Broken Arrow.

We serve an extensive variety of events, ranging from exuberant birthday parties and spirited school gatherings like at Country Lane Intermediate, to meaningful church functions at Broken Arrow Church of Christ and other significant community-wide celebrations. Our all-encompassing inventory doesn't just stop at bounce houses; it includes a myriad of exhilarating water slides, challenging obstacle courses, and vibrant carnival games, as well as all the crucial party gear like tables and chairs to ensure a truly remarkable and enjoyable experience. Committed to the highest safety standards, every one of our inflatable rentals adheres to or exceeds ASTM safety regulations, and our fully insured operations give you the assurance you need when planning your lifetime events.
Select Your Date
Featured Items Why Choose Galaxy Jumpers in Broken Arrow, OK?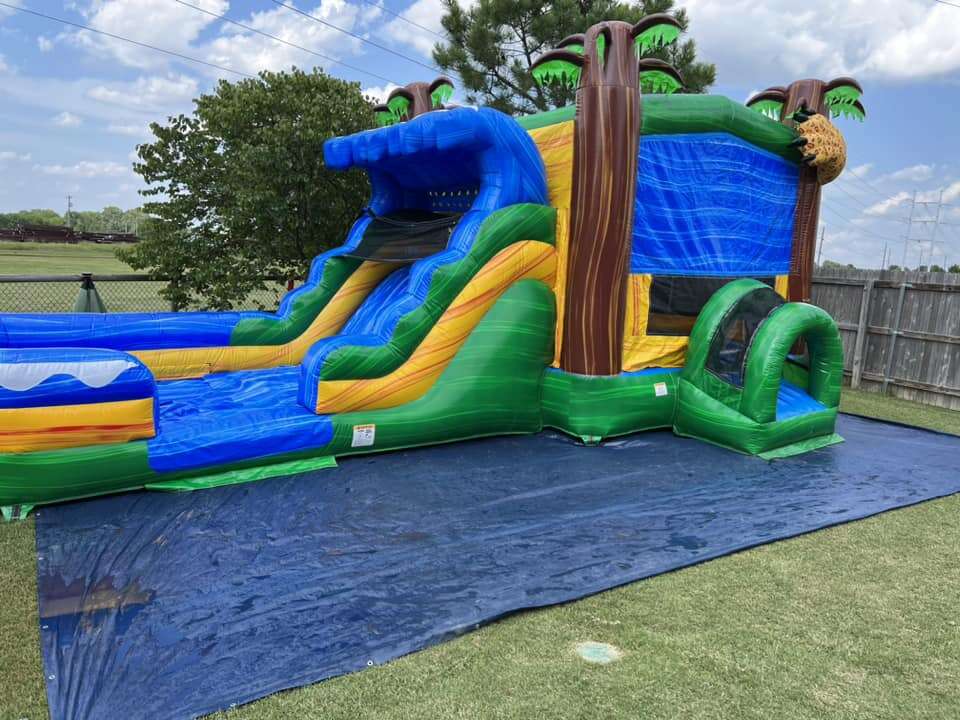 Safety Assurance
In the realm of safety assurance within the inflatable rental industry, Galaxy Jumpers is a name that resonates with trustworthiness and safety, particularly in Broken Arrow, Oklahoma. We are a business deeply rooted in the well-being of children, dedicated to ensuring that every moment of fun and play at your event — whether it's a casual backyard party or an organized gathering at a local Broken Arrow park or school — is both safe and memorable. Our bounce houses and water slides are scrupulously cleaned and sanitized, and our thoroughly trained staff oversees all activities with an attentive eye to maintain a secure environment.
For the residents of Broken Arrow and its surrounding areas like Bixby, Claremore, and the greater Tulsa region, Galaxy Jumpers emerges as the reliable resource for secure and enjoyable bounce house rentals. Our customer support team is readily available to tackle any inquiries you may have about our range of rental items, our transparent and affordable pricing, or our timely and reliable delivery method. We are devoted to ensuring your complete satisfaction, offering you the confidence that your event will be handled with the utmost care and that your younger guests will enjoy a pristine and joyful time. This unwavering dedication to delivering a safe and customer-centric experience is what sets us apart as the premier provider of event rentals across Oklahoma.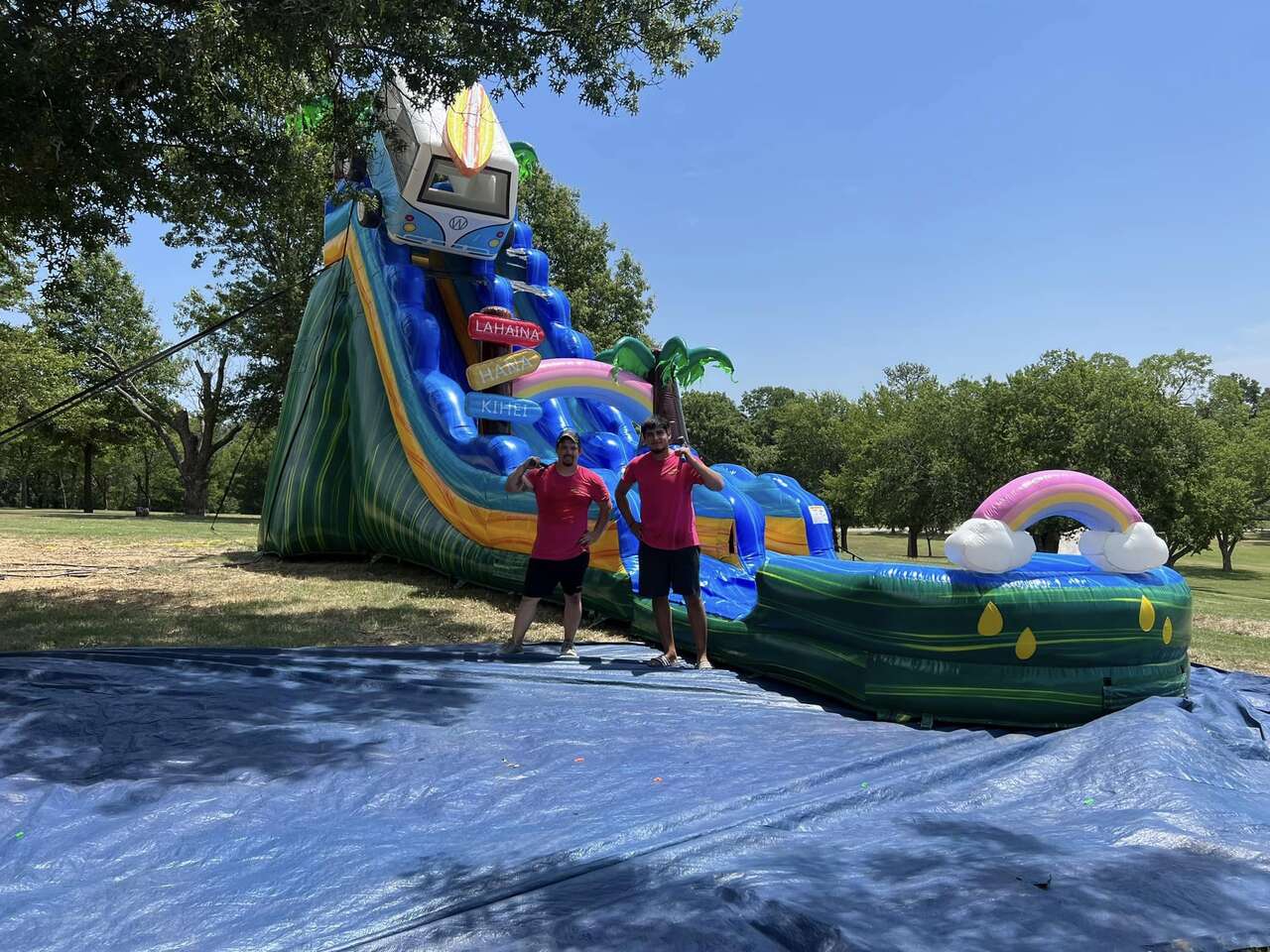 Extensive Inventory
Galaxy Jumpers offers a vast inventory of inflatables and essential party equipment in Broken Arrow, Oklahoma, guaranteeing that your event is charged with an invigorating and thrilling atmosphere. Our selection is rich and varied, encompassing everything from classic bounce house rentals to splashy water slide rentals, and dynamic obstacle course rentals, right through to whimsical carnival game rentals. We are recognized as the all-in-one rental source for any and every kind of event, providing impeccable service and a multitude of items that cater to the entertainment needs of every age group.
Our rental solutions are ideal for any kind of event, from school functions in nearby Sand Springs to church events in Glenpool or corporate gatherings in Catoosa. Galaxy Jumpers is where affordability converges with fun, offering a variety of themes and sizes to perfectly match the unique energy and style of your party. But our services extend beyond inflatable fun; we also provide all the extra party necessities, such as tables and chairs, to ensure that your event is as comfortable as it is enjoyable. Our staff is always ready to assist you with any questions or to help you choose the ideal item, making certain that your event is a resounding success from inception to conclusion.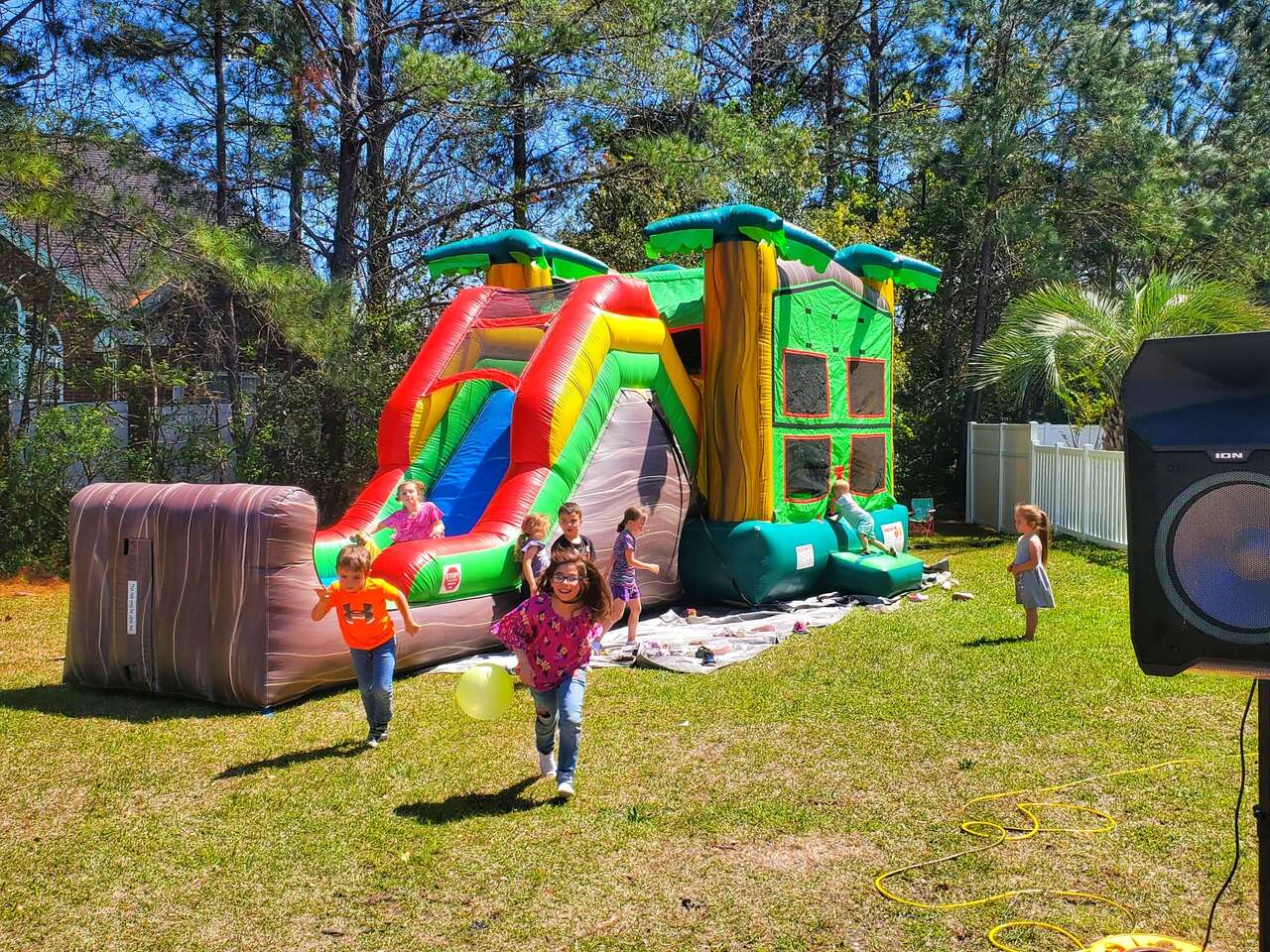 Convenient Booking
When it comes to the ease of booking party rentals, Galaxy Jumpers is unmatched in the Broken Arrow, Oklahoma region. Our expansive services cover the entire city and stretch out to its neighboring locales, including Coweta, Sapulpa, and Collinsville, with a booking process that's customized to accommodate your event's unique requirements. Navigating our user-friendly website is a simple and efficient affair; you can swiftly enter your zip code, select from a broad array of products, check out transparent pricing, and organize delivery logistics—all within a few clicks.

Our customer-oriented staff is on hand to answer any questions, ensuring your booking process is as smooth and seamless as possible. We are proud to provide equipment that meets the highest standards of cleanliness and safety, with our dedicated team managing every detail of delivery and setup with precision. Whether you're in charge of coordinating a birthday party, overseeing a school carnival, or acting as the party planner for a private gathering, Galaxy Jumpers offers an efficient system and an unwavering commitment to customer service that stands out as the ideal choice for your party rental needs in Broken Arrow. Our clear-cut pricing and commitment to delivering great value ensure that you can proceed to checkout with confidence, anticipating an event that will be remembered fondly by all your guests.
Frequently Asked Questions
Q.
What is the delivery and setup process like when I rent a bounce house from Galaxy Jumpers?
A.
Opting for a bounce house rental in Broken Arrow, Oklahoma, with Galaxy Jumpers means experiencing a hassle-free delivery and setup process. We start by collecting your event details, and our team arrives in Broken Arrow with your selected inflatable promptly, ensuring a swift and secure setup. From backyard birthday parties to school events, we prioritize your children's safety and fun. We provide clear instructions on usage and stay available for any questions you may have, aiming for your complete satisfaction and a seamless party experience from beginning to end.
Q.
What is the cancellation policy if I rent a bounce house or other inflatable from Galaxy Jumpers?
A.
Galaxy Jumpers, catering to Broken Arrow, Oklahoma, and surrounding areas like Bixby and Sapulpa, offers a considerate cancellation policy for our bounce house and other inflatable rentals. If inclement weather requires a change of plans, you're entitled to a full refund with at least a 24-hour notice, or we can reschedule your rental to a better date, ensuring that your event, whether in a park or a school, is not compromised. We're dedicated to your event's success and work flexibly to adjust to your needs, making sure your party planning is worry-free.
Q.
What types of inflatable rentals and party rental equipment is available to rent in Tulsa, OK?
A.
In Broken Arrow, Oklahoma, Galaxy Jumpers provides a comprehensive array of inflatable rentals and party equipment to elevate your event. Our selection boasts a variety of bounce houses for energetic jumping fun, combo bouncers for the thrill-seekers, and water slide rentals for those sizzling summer days in areas like Glenpool and Claremore. Our obstacle courses add an element of challenge and adventure. Alongside these, we supply all the necessary party equipment, including tables and chairs, for a complete event setup. Our diverse inventory is matched by our commitment to quality and value, ensuring your party, whether it's a large event in Owasso or an intimate gathering in Collinsville, is filled with entertainment and joy.
Q.
Will Galaxy Jumpers provide the rules or safety regulations to follow when renting a bounce house or water slide?
A.
Certainly! Safety is a cornerstone of our services at Galaxy Jumpers, especially for our Broken Arrow, Oklahoma clients. As the premier source of inflatable rentals like bounce houses and water slides, we provide comprehensive safety instructions. These guidelines are communicated to you well in advance and reiterated upon delivery by our attentive staff. We take care to explain the correct supervision and operation of our equipment, ensuring that all your guests, particularly the kids, have a safe and enjoyable experience. Trust in our delivery team to not only efficiently set up your rentals but also to guide you through all safety procedures.
Q.
What is the process for booking a bounce house or water slide from Galaxy Jumpers?
A.
Booking a bounce house or water slide rental for your Broken Arrow, Oklahoma event is a user-friendly and efficient process with Galaxy Jumpers. Our online system is intuitively designed for your convenience, offering a wide selection of party essentials suitable for any Broken Arrow event, from private parties to large school events. View our competitive pricing and detailed product descriptions, including measurements and features, to select the perfect items for your event. Once your choices are made, a simple form and deposit will secure your booking. You'll receive an estimate by email, and our delivery team will coordinate with you to finalize delivery details, ensuring a smooth and enjoyable experience for your event, all provided with the highest level of customer care and service.