The Best Bounce House & Water Slide Rentals in Tulsa, OK Are Here!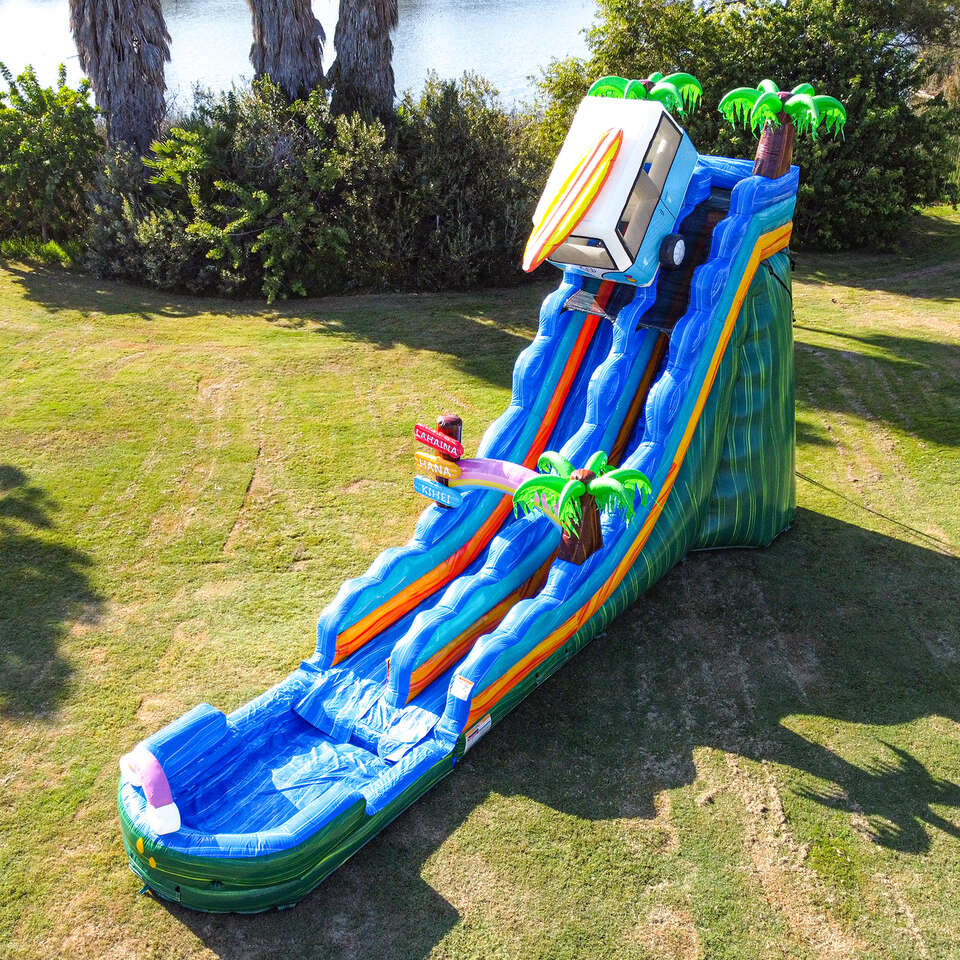 When it comes to fun in Tulsa, we deliver!
Galaxy Jumpers stands out as the premier destination for bounce house and water slide rentals in Tulsa, Oklahoma, expertly serving neighborhoods like Broken Arrow, Claremore and Owasso. We specialize in elevating parties and events with a vast array of inflatables and party essentials, underlining our commitment to exceptional customer service and stringent safety standards – key factors that position us as Tulsa's top bounce house rental company.
Our services extend to various events, including birthday parties, school functions, church events, and city-wide celebrations. Our extensive inventory not only boasts bounce houses but also encompasses thrilling water slides, engaging obstacle courses, and lively carnival games, along with necessary party gear like tables and chairs, ensuring a truly unforgettable occasion. All of our inflatable rentals meet or exceed ASTM standards and we are fully insured.
Select Your Date
Check out some of our most popular inflatable rentals in Tulsa below!
Featured Items Why Choose Galaxy Jumpers in Tulsa, OK?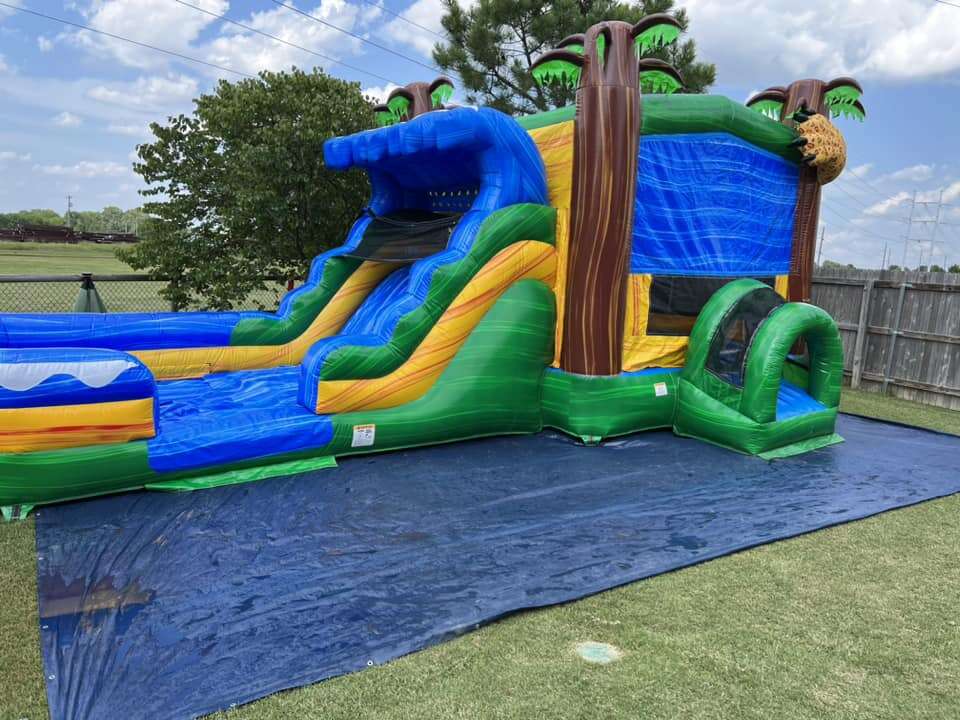 Safety Assurance
At Galaxy Jumpers in Tulsa, Oklahoma, we're committed to providing top-notch safety assurance with our inflatable bounce house rentals and slides. As a family-focused business, we prioritize the safety of kids, ensuring every jump and play session at birthday parties and outdoor events is not only enjoyable but also secure. Our inflatables are kept impeccably clean, and our staff is rigorously trained to supervise children's activities with utmost care.
For families in Tulsa seeking dependable and safe bounce house rentals, we at Galaxy Jumpers offer everything necessary for an unforgettable experience. Our team is always ready to address any questions regarding pricing, value, and our delivery method, making sure our customers feel fully informed and confident in their choice. We take pride in ensuring our guests have a stress-free event, where children can engage in safe, supervised, and pristine fun. This dedication to safety and customer satisfaction is what makes us a leading provider of inflatable entertainment in Oklahoma.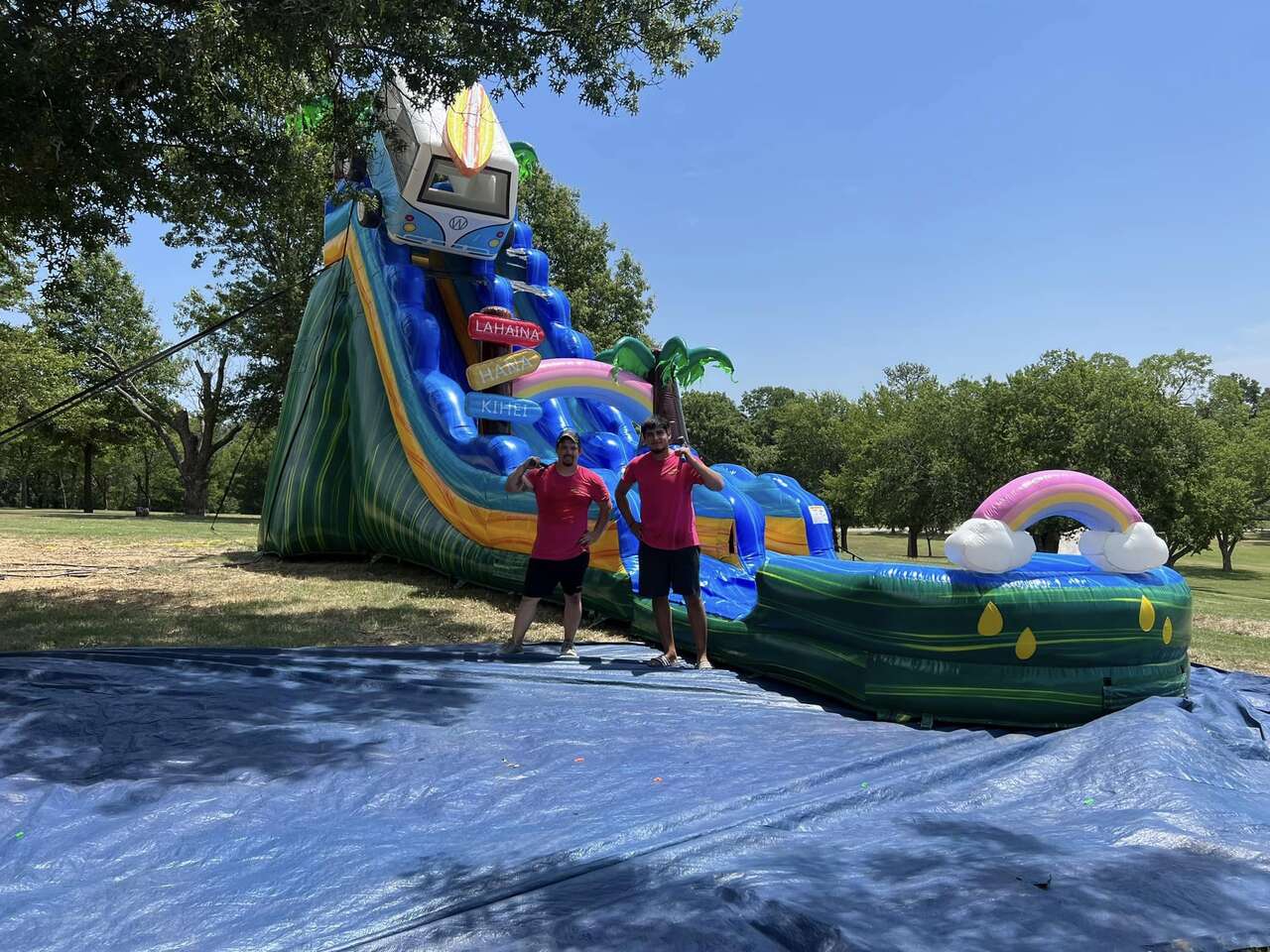 Extensive Inventory
At Galaxy Jumpers in Tulsa, Oklahoma, our extensive inventory is the cornerstone of our commitment to delivering top-tier entertainment for every event. We offer a vast variety of options, ensuring that every jump, slide, and play moment is packed with excitement. Our collection includes not just bounce houses and water slides, but also engaging games and challenging obstacle courses, making us the go-to company for diverse inflatable entertainment.
Our inventory caters to all types of events, from family gatherings and birthday parties to outdoor festivals. We provide affordable prices without compromising on the fun, offering everything from party rentals to water slide rentals. Our selection includes a range of sizes and themes to fit any party's needs, ensuring that kids and guests of all ages have a memorable experience.
Moreover, our inventory extends beyond inflatables to include essential items like chairs, enhancing the comfort and convenience of your event. If you have any questions about our rental options, our team is always ready to help, ensuring your party is a success from start to finish. Choose Galaxy Jumpers for a variety of high-quality, affordable entertainment options in Tulsa, Oklahoma.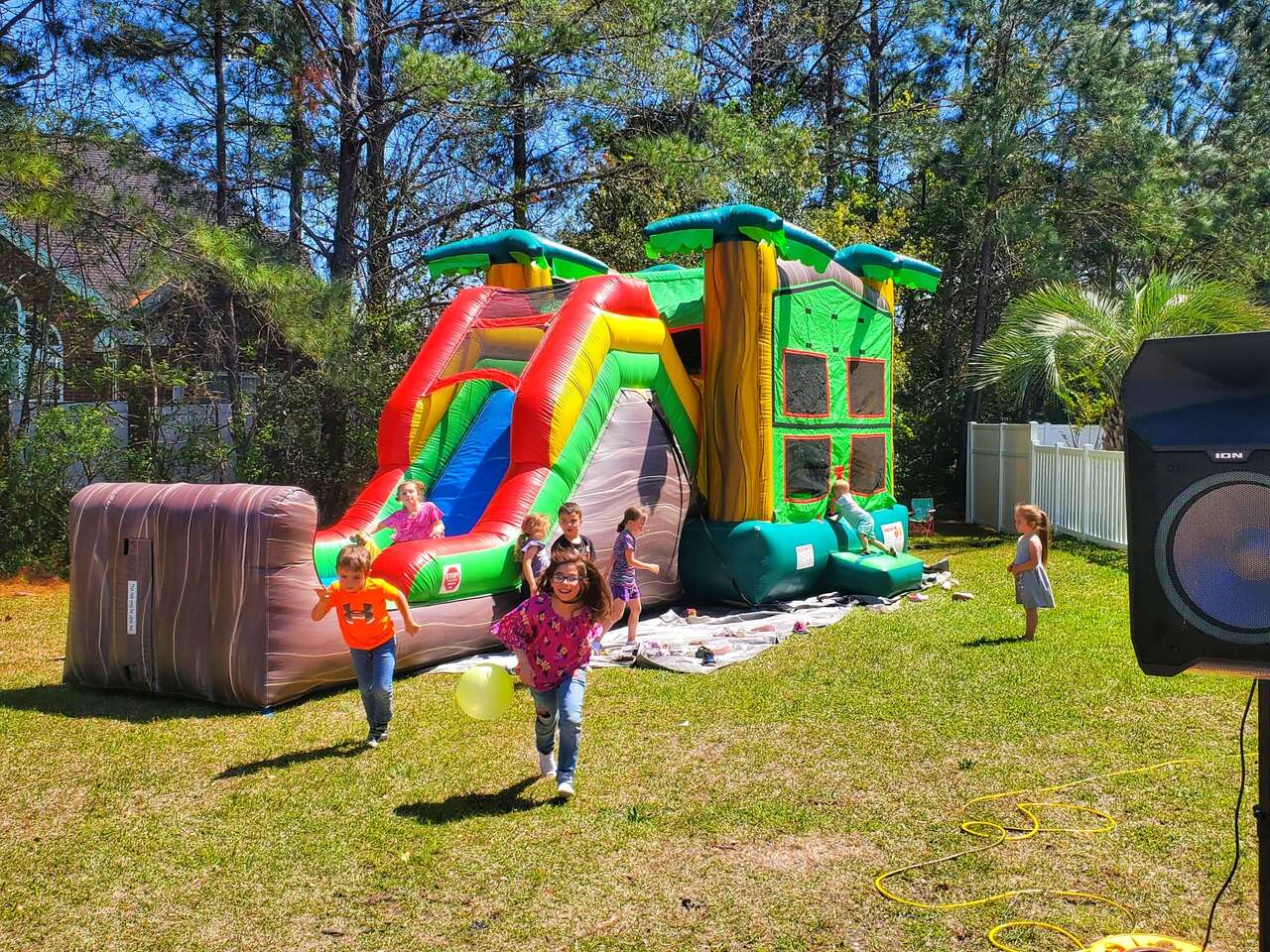 Convenient Booking
At Galaxy Jumpers, we understand the importance of convenience, especially when booking party rentals in Tulsa, Oklahoma. Our service extends across all areas of Tulsa, offering a seamless booking process that caters to your specific needs. With a few simple steps, you can select from our wide selection of bounce houses and water slides, view pricing, and arrange for delivery. Our user-friendly website allows you to enter your zip code and street address, choose your items based on measurements and height, and get an instant estimate.
Our dedicated customer service staff is always a call away to assist with any inquiries, ensuring that every instance of your booking experience is smooth and hassle-free. We pride ourselves on providing clean and safe equipment, with our team meticulously supervising every aspect of delivery and setup. Whether you're planning an event for a church, a school, or a private party, our efficient booking system and commitment to customer service make Galaxy Jumpers the ideal choice for your party rental needs in Tulsa. Plus, our transparent pricing and value-focused service ensure you can continue shopping and checkout with confidence, knowing you've made the right choice for your event.
Frequently Asked Questions
Q.
What is the delivery and setup process like when I rent a bounce house from Galaxy Jumpers?
A.
When you rent a bounce house from Galaxy Jumpers in Tulsa, Oklahoma, our delivery and setup process is straightforward and efficient. We gather your event information, arrive promptly with the inflatable, and handle all aspects of the setup to ensure safety and fun for the kids at your party. Our team provides you with all the necessary details for use and remains on hand for any questions. Our goal is to make your party experience seamless and enjoyable from start to finish.
Q.
What is the cancellation policy if I rent a bounce house or other inflatable from Galaxy Jumpers?
A.
At Galaxy Jumpers in Tulsa, Oklahoma, we understand that plans can change, especially when it comes to outdoor events. If you need to cancel your bounce house or other inflatable orders due to bad weather, you have the choice to receive a full refund, provided you inform us at least 24 hours in advance. Alternatively, you're welcome to reschedule for a more suitable date. Your safety and satisfaction are our top priorities, so we offer flexible options to ensure your event is a success. For any changes to your booking details, simply give us a phone call, and we'll promptly adjust your items or schedule as per your needs. We're here to make your party planning experience as stress-free as possible!
Q.
What types of inflatable rentals and party rental equipment is available to rent in Tulsa, OK?
A.
At Galaxy Jumpers in Tulsa, Oklahoma, we offer a wide range of inflatable rentals and party equipment to make your event truly memorable. Our selection includes classic bounce houses, which are perfect for kids to jump and play in. We also have combo bouncers, which combine the fun of a bounce house with the excitement of an attached slide. For those hot summer days, our water slides are a fantastic choice, while our dry slides are ideal for any outdoor event where water isn't an option. For more adventurous fun, check out our obstacle courses, which add a competitive edge to your party or event. In addition to inflatables, we provide essential party equipment like tents, tables, and chairs to accommodate all your guests comfortably. For added entertainment, we offer a variety of carnival games and concession machines to enhance the party atmosphere. Whether you're planning a birthday party, a family gathering, or any outdoor event, our rentals are designed to provide endless entertainment and fun for kids and adults alike. Choose Galaxy Jumpers for all your party and event rental needs in Tulsa, OK!
Q.
Will Galaxy Jumpers provide the rules or safety regulations to follow when renting a bounce house or water slide?
A.
Absolutely! At Galaxy Jumpers, we prioritize safety for all our rentals, including inflatable bounce houses and water slides, in the Tulsa area. When you book with us, we ensure that you, as the party planner, are fully equipped with the necessary safety information. Prior to your rental date, we will email you detailed safe operating instructions for both our inflatable bounce houses and inflatable water slide. This helps you prepare in advance for a safe and enjoyable event. Additionally, upon delivery of your rental, our skilled delivery crew will go over these safety regulations with you again. They will explain the proper supervision and usage of the equipment, ensuring that everyone can enjoy the event safely. Our delivery method is designed to not only set up the inflatables efficiently but also to provide you with all the essential safety guidelines. Your safety and enjoyment are our top priorities at Galaxy Jumpers.
Q.
What is the process for booking a bounce house or water slide from Galaxy Jumpers?
A.
Booking a Tulsa bounce house or water slide rental from Galaxy Jumpers is a straightforward and customer-friendly process. As the owner of Oklahoma's premier party rental business, I can assure you that we've designed our system with your convenience in mind. First, visit our website and choose your desired date and time, along with the items you'd like to rent. Whether it's a Tulsa OK bounce house or a water slide rental, you'll find a variety of options to fit any party planner's needs. Our site allows you to view prices, measurements, and height requirements to help you make an informed decision. Once you've made your selections, simply fill out your information, and pay the required deposit. You'll receive an email confirmation with an estimate of your rental. Our delivery manager will then contact you 24-48 hours before your event to arrange a suitable delivery time. Our friendly and professional crew will handle the delivery, setup, and subsequent pick-up of the inflatable, ensuring your event runs smoothly. This service is perfect for all types of customers, including families, churches, and businesses in the Tulsa area. We strive to make your rental experience hassle-free from start to finish.