The Best Bounce House & Water Slide Rentals in Owasso, OK are Just a Click Away!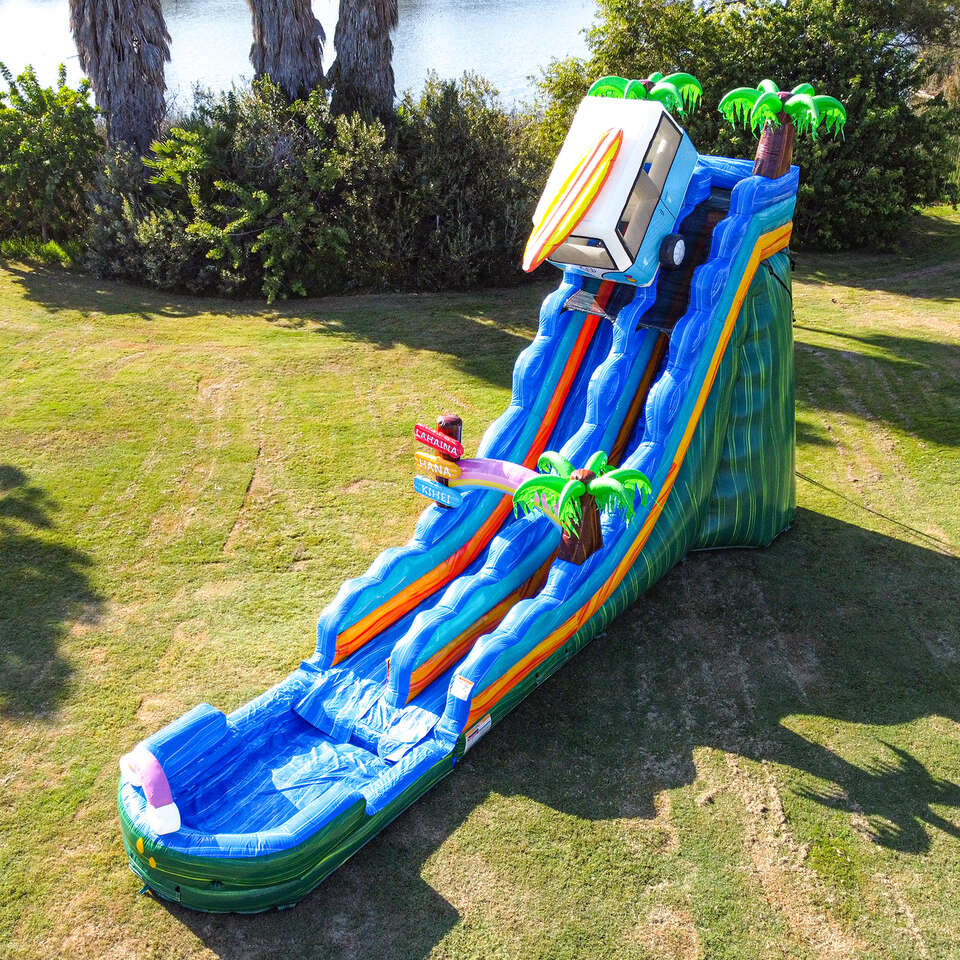 When it comes to fun in Owasso, we deliver!
Galaxy Jumpers is the go-to source for bounce house and water slide rentals in Owasso, Oklahoma, offering top-tier service to areas including Broken Arrow, Claremore, and the broader Tulsa region. Renowned for transforming parties and events, our extensive selection of inflatables and party essentials, coupled with a dedication to outstanding customer service and rigorous safety protocols, has established us as the foremost bounce house rental provider in Owasso.
We cater to a wide array of occasions, from birthday celebrations and school gatherings at Owasso High School to church functions at First Church and other community-wide festivities. Our comprehensive inventory features not only bounce houses but also exhilarating water slides, captivating obstacle courses, and vibrant carnival games, as well as essential party equipment like tables and chairs, guaranteeing a memorable experience. Adhering to stringent safety standards, all our inflatable rentals meet or surpass ASTM requirements, and our operations are fully insured.
Select Your Date
Featured Items Why Choose Galaxy Jumpers in Owasso, OK?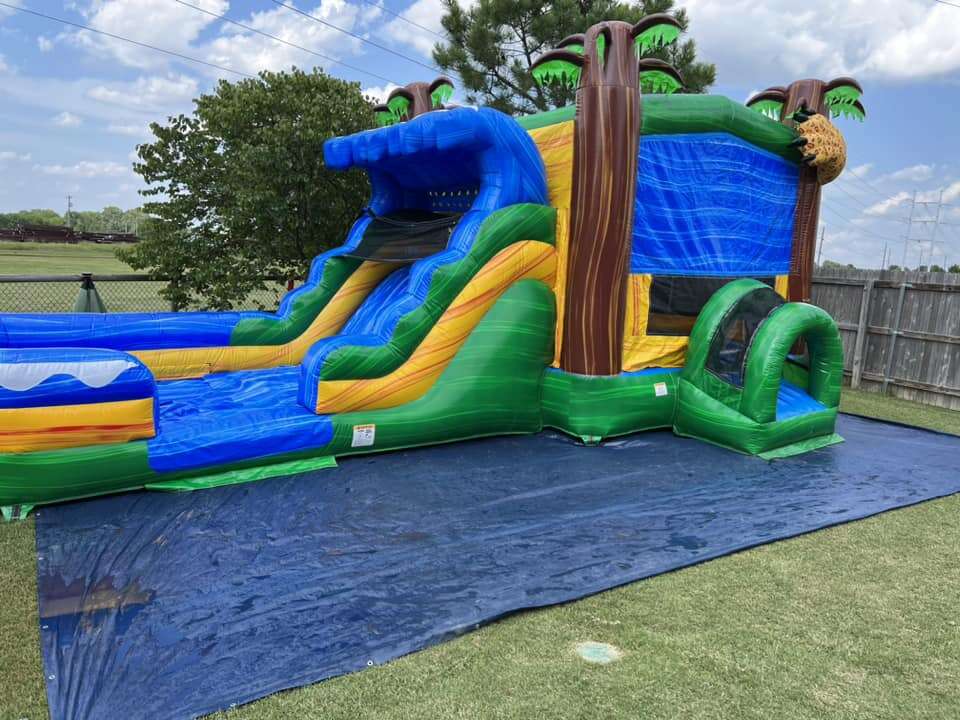 Safety Assurance
Galaxy Jumpers, located in the heart of Owasso, Oklahoma, is synonymous with safety in the inflatable rental industry. We are a business that's deeply invested in the wellbeing of children, ensuring that every fun moment at your event, from backyard parties to park gatherings, is safe and sound. Our bounce houses and water slides are meticulously cleaned, and our trained staff diligently oversee all activities to provide a secure environment.
For the Owasso area, including communities like Broken Arrow, Claremore, and Bixby, Galaxy Jumpers is your reliable source for secure and enjoyable bounce house rentals. Our team is on call to answer any questions you have about rental items, our transparent pricing, or our punctual delivery method. We're committed to your satisfaction, offering you peace of mind and the assurance that your little guests will have a safe and spotless time. Our steadfast dedication to safety and customer service sets us apart as a trusted provider of event rentals in Oklahoma.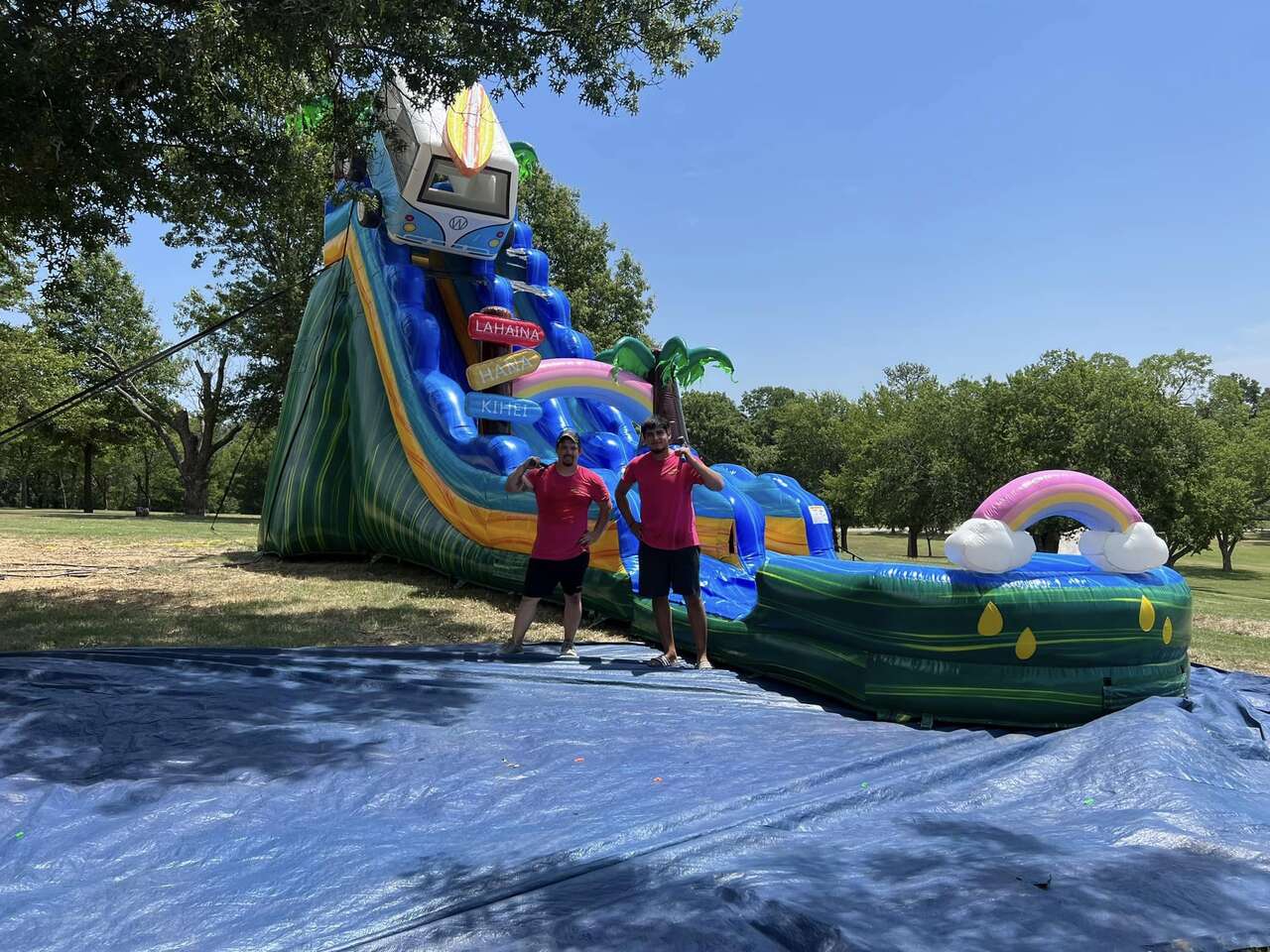 Extensive Inventory
Galaxy Jumpers boasts an extensive selection of inflatables and party essentials in Owasso, Oklahoma, ensuring your event is an exhilarating experience. Our inventory includes everything one could imagine - from bounce house rentals to water slide rentals, obstacle course rentals, and even carnival game rentals. We stand as the one-stop rental source for every kind of event, offering quality service and a variety of items that cater to all ages.
Our offerings are perfect for any event rentals, whether it's a school function in Sand Springs, a church event in Glenpool, or a company event in Catoosa. At Galaxy Jumpers, affordability meets fun, with a range of themes and sizes to suit your party's unique vibe. We go beyond just inflatables, providing tables and chairs to complete your event setup. If you have questions or need assistance in choosing the right item, our staff is eager to help, ensuring your event is a blast from start to finish.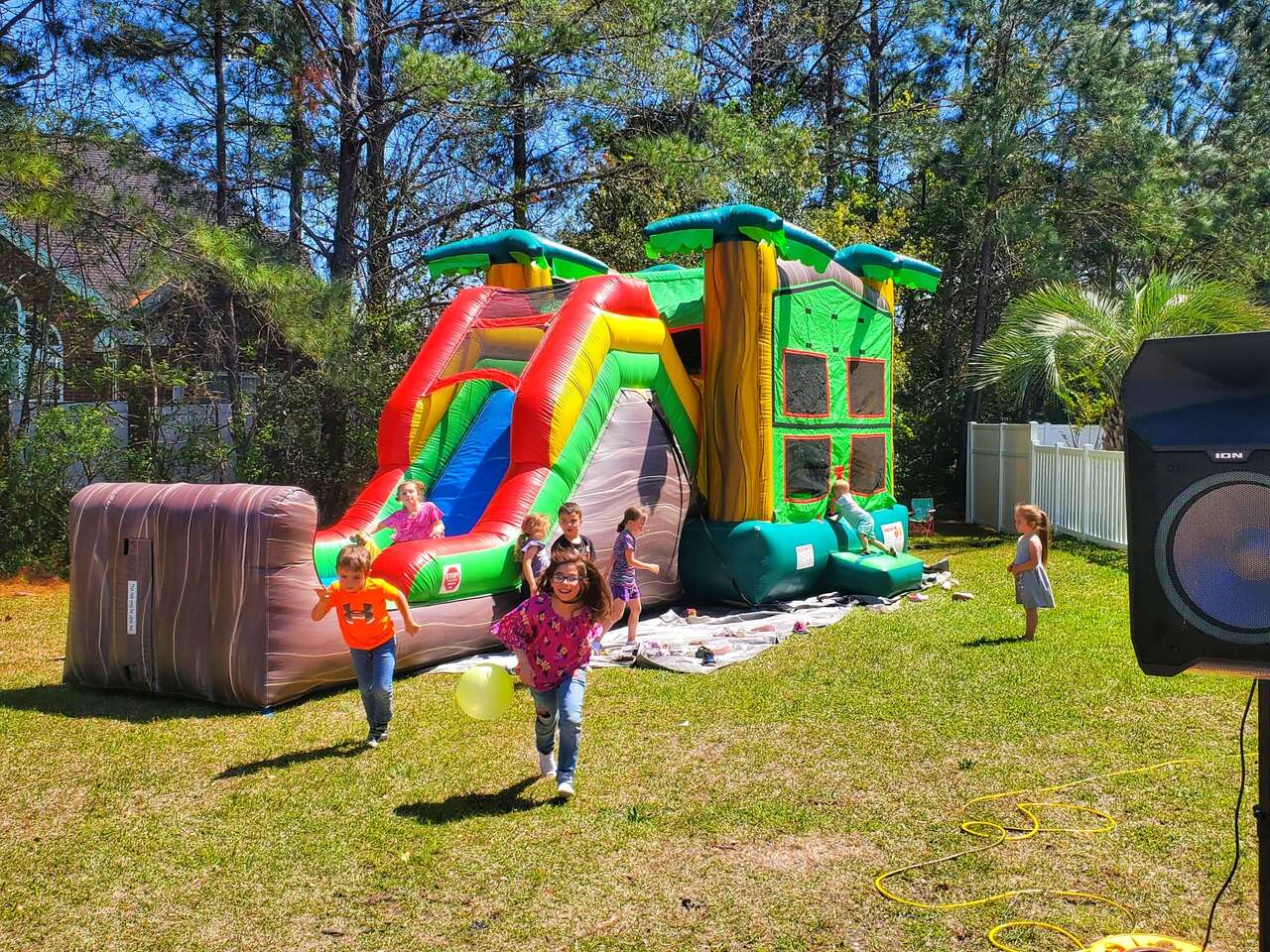 Convenient Booking
When it comes to booking party rentals, convenience is key, and Galaxy Jumpers excels in this area for Owasso, Oklahoma. Our service extends throughout Owasso and neighboring cities like Coweta, Sapulpa, and Collinsville, offering a straightforward booking process tailored to your event's needs. Our intuitive website allows you to enter your zip code, select from a vast array of products, view pricing, and manage delivery—all with a few clicks.
Our customer-focused staff is readily available to handle any inquiries, ensuring a seamless booking experience. We pride ourselves on providing equipment that is both clean and safe, with our team meticulously managing every detail of delivery and setup. No matter if you're planning a birthday party, a school carnival, or a party planner for a private gathering, our efficient system and dedication to customer service make Galaxy Jumpers your ideal partner for party rental needs in Owasso. Our clear-cut pricing and value-focused offerings mean you can continue shopping and checkout with confidence, looking forward to an event that's sure to be memorable.
Frequently Asked Questions
Q.
What is the delivery and setup process like when I rent a bounce house from Galaxy Jumpers?
A.
When you opt for a bounce house rental from Galaxy Jumpers in Owasso, Oklahoma, expect nothing less than a streamlined and meticulous delivery and setup service. Our team will have a reservation locked for your weekend event, ensuring we arrive on schedule with your chosen inflatable. We're all about creating a safe, enjoyable jump and play space for children, handling all aspects of setup with care in your backyard, park, or school. We guarantee clean equipment and attentive supervision, offering detailed guidance on usage and standing by to address any concerns. Our end-to-end service is engineered to provide you with a stress-free experience that maximizes fun and safety.
Q.
What is the cancellation policy if I rent a bounce house or other inflatable from Galaxy Jumpers?
A.
In Owasso and surrounding areas like Bixby, Sand Springs, Glenpool, and Catoosa, we at Galaxy Jumpers offer a flexible cancellation policy for our bounce house and other inflatable rentals. Should you need to cancel due to unforeseen weather or other issues, we provide a full refund if notified 24 hours prior, or we can reschedule for another time that suits you. We understand the importance of both safety and satisfaction, so we provide adaptable options to accommodate your needs. Should plans change, a simple call is all it takes to adjust your reservation details, ensuring you save time and money while preparing for your event.
Q.
What types of inflatable rentals and party rental equipment is available to rent in Tulsa, OK?
A.
Galaxy Jumpers in Owasso delivers an array of inflatable and party rental options designed to enhance any event. Our selection spans from traditional bounce house rentals to water slide rentals and engaging obstacle course rentals. For the hotter days in areas like Muskogee, Coweta, Sapulpa, and Collinsville, our water slide rentals offer a refreshing addition. We also feature obstacle courses for competitive friends, and not just for kids—adults can join the fun too. With a variety of items such as tents, chairs, and tables, we cover everything you need for a memorable gathering. Our services ensure your event, from private backyard parties to large company events, is outfitted with entertainment and care.
Q.
Will Galaxy Jumpers provide the rules or safety regulations to follow when renting a bounce house or water slide?
A.
Indeed, Galaxy Jumpers is committed to the safety of all our services, including bounce house and water slide rentals throughout Owasso and adjacent cities like Wagoner and Skiatook. As part of our care for your event, we provide thorough instructions on safety regulations and proper usage. These details, sent ahead of time and reiterated upon delivery, ensure that supervision and safety are prioritized. Our delivery staff takes the time to review these rules with you, demonstrating our dedication to making a difference in your event's success. We strive to ensure every jump, slide, and playtime is secure and enjoyable.
Q.
What is the process for booking a bounce house or water slide from Galaxy Jumpers?
A.
Securing a bounce house or water slide rental for your Owasso event with Galaxy Jumpers is an efficient and customer-centric endeavor. Our online reservation system is tailored for easy navigation, allowing you to choose from an extensive range of items, including obstacle courses and water slides, perfect for parks, yards, and school events. Once you've selected your preferred entertainment pieces, fill out the necessary details, pay a deposit, and voila—your booking is complete. You'll receive a confirmation with all the details and pictures of your items. Our delivery team will reach out to confirm the logistics, ensuring a smooth process from start to finish, saving you time and money, and elevating your event with our affordable, quality services.